Not Only Was Activist Beaten,
He May Have Been Poisoned
By KEN WELLS
Staff Reporter of THE WALL STREET JOURNAL

PRETORIA, South Africa -- Two decades after the fact, it is official: The apartheid state and its police helpers killed activist Steven Bantu Biko. But it may be worse than the world thought. There are new allegations that he wasn't only tortured and beaten, but poisoned.
Those allegations, which came to light only Wednesday, were made by a yet unnamed informant to South Africa's Truth and Reconciliation Commission, the constitutional body charged with investigating apartheid-era crimes and human-rights violations.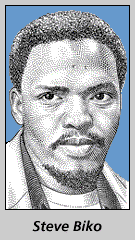 They follow last week's admission by five white former security policeman who say they methodically assaulted, tortured and eventually killed Mr. Biko in 1977. A figure of the stature of Nelson Mandela, his death shocked the world and provided fresh outrage to antiapartheid forces who were being worn down by aggressive government harassment.
Those close to the commission say it is too early to tell how seriously to take the allegations that Mr. Biko was poisoned with a substance whose effects mimic brain damage. But the panel has subpoenaed for Feb. 10 a former medical officer with the South African Defense Forces who commissioners believe may have some knowledge of the matter, people close to the commission say. Testimony in previous murder trials of antiapartheid activists has established that the notorious Special Branch police force in South Africa's Eastern Cape province used poison -- including whiskey laced with rat poison -- to kill and maim black targets.
Power to Grant Amnesty
The commission, which began operating about 18 months ago, has the power to grant amnesty to perpetrators of so-called political crimes in cases where it is convinced that the assailants are making full disclosure and were following state orders.
The five policeman who came forward last week -- Harold Snyman, Gideon Niewoudt, Ruben Marx, Daantjie Siebert and Johan Beneke -- maintain that they killed Mr. Biko unintentionally, with blows delivered while following official orders to rough him up. As many as five other police officers with knowledge of the activist's death are also expected to file applications before the commission.
In Port Elizabeth, Francois van der Merwe, attorney for the five policemen, confirmed the Truth Commission amnesty filings but declined to comment beyond that.
Commissioners are thus far unsatisfied with the individual details the policemen have provided and will investigate lingering "gaps" in the testimonies before deciding whether they deserve full amnesty hearings, says Dumisa B. Ntsebeza, a commissioner with the agency's investigative branch. Those whose amnesty applications are rejected -- or who are found to have committed crimes unreported in their amnesty pleas -- may face criminal prosecutions.
Too Lenient?
Whatever the case, Mr. Ntsebeza is optimistic that, before the year's end, the commission will come as close as is possible to learning the truth about Mr. Biko's death. Though many in South Africa, including Mr. Biko's widow, Ntiski, have criticized the commission as potentially too lenient toward the racist murderers of the old regime, many believe it is the only reasonable way to get to the bottom of myriad crimes of the apartheid era.
The benefit of the commission is that "it puts on trial the entire system of apartheid, and not just the foot soldiers of the regime," says Shun Chetty, a South African lawyer, once exiled to Australia, who helped represent Mr. Biko's family during the inquest into his death two decades ago. "In that way, I think it's vital to the future of the country. But unquestionably it means that some individuals and some families who suffered heinously under the system will be asked to sacrifice for the greater good."
The Case
Whatever the final findings, a reconstruction of the Biko case -- through interviews with friends, associates, investigators and a review of inquest testimony -- shows that Mr. Biko suffered horribly at the hands of his captors.
On a warm September morning in 1977, 24 days after Mr. Biko had been detained incommunicado for interrogation by Special Branch police, his body was delivered to his family, bruised and battered. Once a robust 30-year-old, he had died naked and frothing at the mouth on the floor of a Pretoria jail hospital after an inexplicable 11-hour ride in a Land Rover from a dank prison in Port Elizabeth, 600 miles away.
When official explanations that he had succumbed to a hunger strike met with howls of derision, police offered a second explanation: One night, he had scuffled violently with his captors, hit his head against a wall and died of brain injuries while awaiting medical attention. He hadn't otherwise been assaulted or tortured, they said.
"I never thought they would kill him," recalls Donald Woods, a white newspaper editor who was exiled from South Africa for his antiapartheid views and his muckraking about the Biko case. "Steve had been in detention before and he had not been tortured ... . It was the very worst thing they could have done."
Indeed it was. Mr. Biko was a daring and articulate founder and mainstay of the Black Consciousness Movement and, except for Mr. Mandela, perhaps the best known and most fervent of South Africa's antiapartheid activists. His death was mourned throughout the free world, and its suspicious circumstances proved an enraging and galvanizing event in the simmering antiapartheid movement here and abroad.
Thousands, including numerous Western diplomats, mobbed his funeral in a run-down cemetery in King William's Town, in the Eastern Cape province, despite police efforts to keep them away. And it was the blow that finally convinced the U.S. government to impose an arms and oil embargo against the white South Africa regime.
In its own way, Mr. Biko's death on Sept. 12, 1977, signaled the beginning of the end of white rule here. Though Jimmy Kruger, South Africa's police minister at the time, stood before the world and declared no remorse over Mr. Biko's death, many inside the hated state police apparatus back then weren't so cocksure. A typist overhead one supervisor of the dreaded Special Branch say upon learning of Mr. Biko's death: "Now we're in real trouble."
Beginning of the End
It all began on the evening of Aug. 18, when Mr. Biko, in a car driven by his antiapartheid ally Peter Jones, rounded a corner in the Eastern Cape city of Grahamstown, about 40 miles from King William's Town where Mr. Biko lived.
Ahead was a police road block, recalls Mr. Jones, now a Cape Town lawyer and entrepreneur. A car before them was waved through; they were stopped. With little fanfare, policemen climbed into their car and ordered them to follow a police car to a nearby Grahamstown jail. "They pretended they didn't know us but took us in for questioning anyway," he says. Looking behind him, Mr. Jones saw the roadblock come down.
The pair was already exhausted from a 10-hour drive from Cape Town, where they had been in the midst of secret meetings that might certainly have given the nervous white government reason to worry. The African National Congress, Mr. Mandela's party that now leads South Africa's nonracial government, says it was clear back then that Mr. Biko had decided to play a major role in unification talks between the various black liberation movements, including the ANC and the radical Pan African Congress; to the white government's delight, those groups had been waging sometimes splintered and fractious antiapartheid campaigns.
'Not Antiwhite'
"Steve was a charismatic figure and a conciliator," recalls Mr. Chetty, his sometime attorney. Though the government and many whites saw his Black Consciousness Movement as a vehicle for black separatism, "what Steve really believed and what the BCM stood for was the empowerment of black people. It was the underdog trying to be defined as equal, but it wasn't antiwhite."
It was at the Grahamstown jail that one of the grimmest nightmares of the apartheid-era began in earnest. When a search of Mr. Jones's car turned up his identification card, the police turned up the heat on Mr. Biko to identify himself. No stranger to detention, "He told them he was Steven Bantu Biko," Mr. Jones recalls.
Before long, he and Mr. Biko found themselves manacled to cell bars, charged under Section 6 of South Africa's Terrorism Act. This was "detainment": Imprisonment with no chance of a lawyer, no contact with the outside world, no pretense of due process.
Held for several hours, the two were separated and thrown into police cars for a ride to a prison in nearby Port Elizabeth. Mr. Jones was kept face down on the back seat, pinned there by the feet of policemen.
Brutal Interrogation
He never saw Mr. Biko again. But if his own treatment was a barometer, he knew the fate of his friend. For the next 20 hours, Mr. Jones says he was stripped, beaten with fists and pipes, kicked, screamed at, and humiliated as five Special Branch policemen interrogated him for alleged antistate activities.
He would emerge from prison 533 days later, with the acts of assault and torture that first greeted him repeated many times. How Mr. Biko fared has largely been drawn from an autopsy report and the results of the 14-day inquest that followed a month after his death. Such inquests were pro forma when blacks turned up dead in detention; so were the results.
"What's forgotten about that era," says Mr. Chetty, the lawyer, is that of an estimated 50 cases similar to Mr. Biko's, "nobody was ever found guilty of killing a detainee. It is one of the disgraceful chapters in the history of South African legal tradition."
If no one admitted murder, what was admitted was appalling enough. For his first 20 days, Mr. Biko, except during periodic interrogations, was kept naked and chained to his bedpost, and was never allowed to leave his cell. On Sept. 1, Mr. Biko was visited by a magistrate, a jurist assigned technically to monitor prisoners' conditions, and complained to him about this and the fact that he hadn't been allowed to wash himself. He asked the magistrate, according to testimony, "Is it compulsory that I have to be naked?" The magistrate declined to answer.
The Alleged Scuffle
Five days later, on Sept. 6, Mr. Biko was moved temporarily to a prison interrogation room. He had two groups of questioners, a day and a night squad. Day-squad interrogators said they turned him over to the night squad sometime after 6 p.m. It was apparently that evening that the alleged scuffle took place and Mr. Biko suffered what might have been the fatal blow to his head. The police even testified that it was serious enough that they could no longer question him.
Mr. Biko's friends don't doubt that there could have been a scuffle. Mr. Woods, the journalist, noted that during a prior incident, Mr. Biko had slapped a policeman who had slapped him. "If they taunted Steve, he was likely to taunt them back."
A prison doctor was dispatched to check Mr. Biko, and he reported that despite the obvious head injury, there was no sign of anything abnormal. Two days later, with Mr. Biko back in his cell, the doctor came back with a more senior physician and found the prisoner lying in urine-soaked trousers. The doctors continued to insist, according to inquest testimony, that Mr. Biko wasn't seriously injured. Yet they ordered him taken to a lab where, tapping fluid from his spine, they found traces of blood -- a common indication of a brain damage.
"A first-year medical student would have picked that up," says Mr. Chetty, the Biko family lawyer. But instead, Mr. Biko was sent back to his cell, to languish.
Long Road to Pretoria
No one has yet come forward to say when Mr. Biko may have been poisoned. On the morning of Sept. 11, a guard checking Mr. Biko found him lying naked on his prison cot, semiconscious and foaming at the mouth. A doctor came back to examine him and -- for reasons that have never been explained -- ordered him transferred to the prison hospital in Pretoria. Mr. Woods posits that police knew Mr. Biko was dying, and feared his death in Port Elizabeth might foment rebellion among his masses of black supporters in the Eastern Cape.
So Mr. Biko was stashed naked, with only a bottle of water, in the back of a Land Rover for the long drive to the capital. He was dumped on the floor of the Pretoria hospital room. He came in and out of consciousness and muttered a few indecipherable words before he died the next night.
Despite the obvious maltreatment, the magistrate of the inquest into Mr. Biko's death took only 80 seconds to render a verdict. It was delivered in Afrikaans, the language of the policemen who had interrogated him. The policemen were cleared of any culpability.