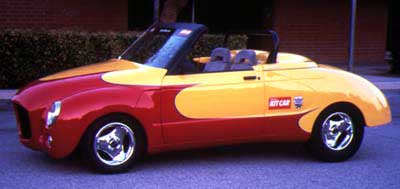 My New commute vehicle!!!
The Rodster by Caroselli Design. For more info see www.rodster.com.
About WattRod
I bought this 1987 Chevy Blazer truck from Henry Caroselli (maker of the Rodster in Jan 1999. In March of 1999 I had Spencer Stuart start working on the interior redesign and stereo upgrade.

1 - Eclipse 5506 CD Head Unit
1 - Eclipse 8 Disc CD changer
1 - Zapco AG650 Amplifier
1 - Diamond Hex 6,4,tweet speaker (With 4s & tweets in dashboard &6s in custom door panels)
2 - IDQ 10in woofer 8 ohm in a custom enclosure
1 - Dakota Digital Dash cluster with Gauges & Sensors
1 - Alarm with full window control & radar sensor.
---
Here's some pictures from his web site....
Here's some pictures that I took when I went to go see the car. Mostly Technical shots, for future conversion to an electric vehicle.